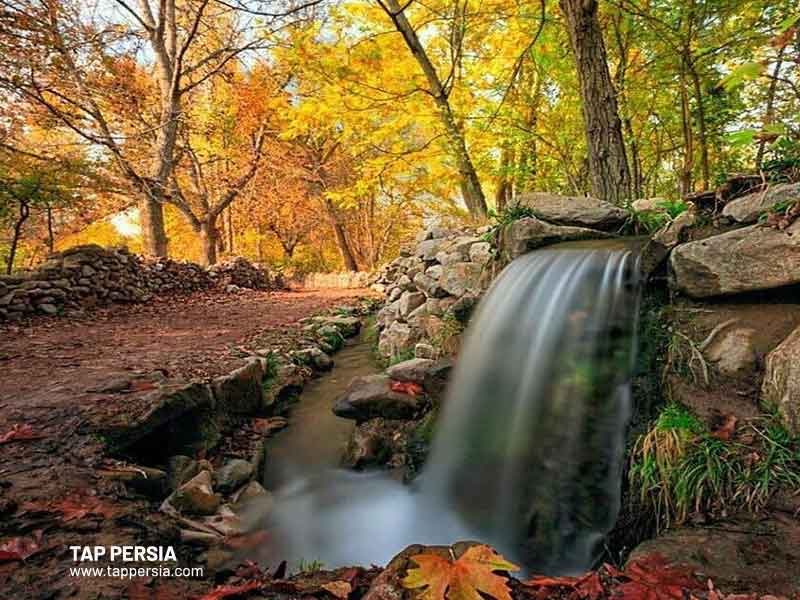 Shiraz is one of the tourism hubs in Iran that you will see many domestic and foreign tourists whenever you go there. Most of those who travel to this province go to its famous attractions such as Shahcheragh, Hafezieh, Eram Garden, Karimkhan Citadel, Nasir Al-Molk Mosque, Vakil Bazaar, and Persepolis Complex, while there are many other attractions in this province. One of them is Ghalat village in Shiraz. Tap Persia recommends you visit this amazing Iranian village during your trip to this province. Ghalat (or Qalat) village is located 36 km northwest of Shiraz city. It has a cool climate even in the hottest months of the year. Today, join us to learn more about it.
But before we start let's find the answer to this question. Why should you visit Ghalat Village?
It's easy, because;
1. Qalat village has been nationally registered as the first historical-natural rural texture of Fars province.
2. Pleasant and spectacular nature.
3. There is easy access to suitable amenities.
4. This village has important historical monuments such as a church.
5. It is easily accessible and close to the city center.
Let's Get Started With the Less Known Attraction of Shiraz
Ghalat is a summer village with stepped houses. It is located 36 km from Shiraz at an altitude of 2065 meters above sea level. This village is one of the historical sites of Shiraz due to its historical attractions. It rests near Ghalat mountain that surrounds the village like a big wall. Qalat with its historical monuments, lush nature, beautiful springs, and cool climate was once a promenade of the kings of ancient Iran. And yet it is the best option for spending leisure time in Shiraz.
This pleasant village has a population of about 7,000 people. The locals speak Persian with the local dialect of Ghalati. They wear Qashqai clothes in their ceremonies and celebrations. These people have a semi-traditional life. They are engaged in agriculture, animal husbandry, horticulture, and some in weaving. The features of this unique attraction make it a great destination for those who come to Shiraz. Although it's not that known, many people visit it annually.
Ghalat, A Piece of Paradise on Earth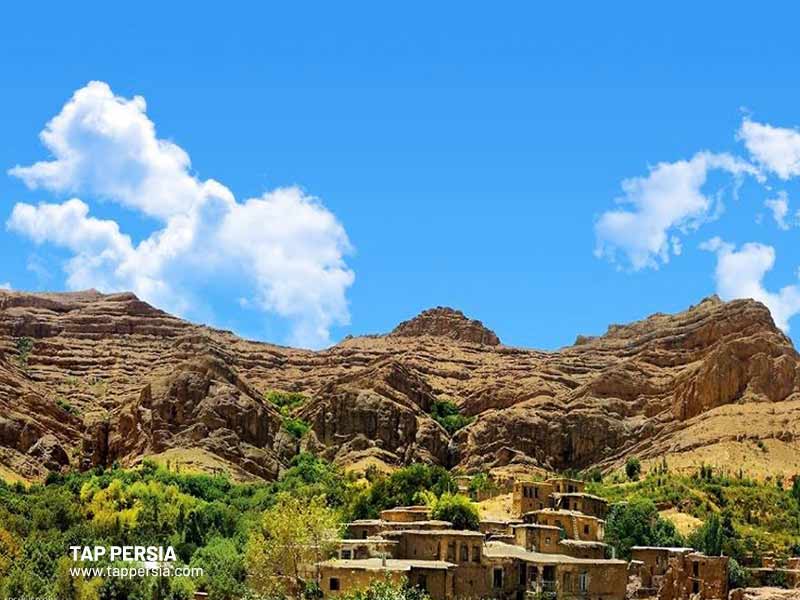 Some say Ghalat Village is a piece of paradise left on earth with its thousands of years old trees, flowing water springs originating from the top of the mountain, and deep and cool valleys that in the hottest time of the year, may easily make you shiver.
If you climb up Ghalat mountain, you will see unique views. The views are of the astonishing old texture of the village with a paved path and a lot of trees. Above all, this region is rich in medicinal plants such as yarrow, thyme, hollyhocks, adiantum capillus-veneris, rhubarb, spear thistle, etc.
You can drive through the village but the rest of the way you have to walk. On this route, in addition to pleasant views that renew your soul, the pleasant weather will refresh your body. Ghalat village has been on Iran's National Heritage List since May 7, 2017.
Sights and Entertainment of Ghalat village
Sightseeing in The Village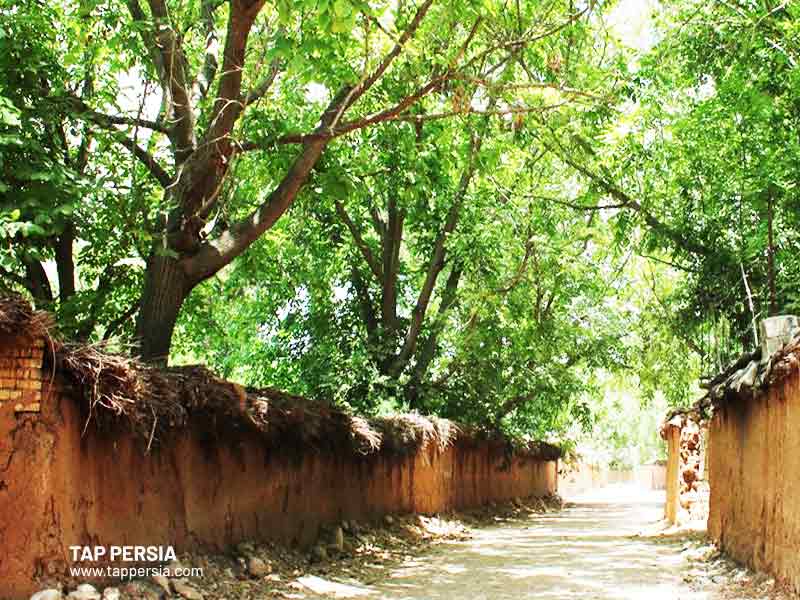 At the beginning of the village, you can see the new texture of the village. The old texture begins from Ghezel Arsalan Street. On the way to the old texture, you will see beautiful landscapes and lush and extensive gardens. If you go to this village in spring, it will be as heartwarming and dreamy as if you had gone to the Cherry Blossom Festival in Japan. The physical texture of the stunning mountain architecture of stepped houses, the winding alleys between which the clear streams flow, all have given a unique charm to this village.
Watching the waterfalls that flow among the rocks and listening to their sound hitting the rocks is a unique attraction. Around the Shab-Shotori river and Cheshmeh-Anjiri river, is full of wildflowers, yarrow, hollyhocks, thyme, mint, etc which is a great blast to spend time.
Ghalat Church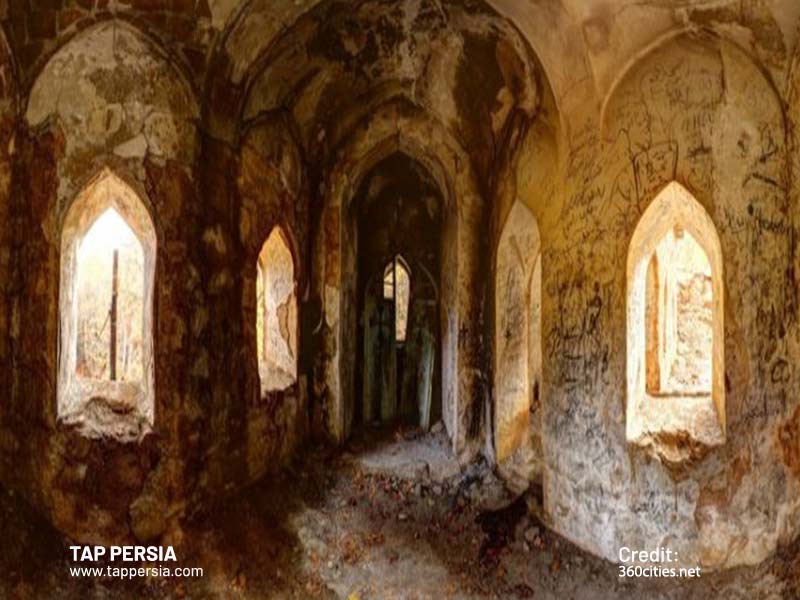 In one of the quiet alleys of the village, there is a church that belongs to World War One with a stone structure. The church was built by missionaries between the First and Second World Wars for Christians in the village.
Unfortunately, this church has been destroyed due to insufficient care.
Ghalat Museum
Ramin Baghi, a music graduate, founded the Qalat Museum House about 10 years ago. Visiting this museum is free and you can see a lot of ancient instruments and objects, cameras, old radios, coins and cash, embroidery tools, and his own paintings, etc. In this collection, you can also see some objects registered in the cultural heritage of Fars province.
Qezel Arsalan Castle
At the top of Ghalat mountain, we reach the ruins of a castle. According to the villagers it belongs to Atabakan Fars and is known as Ghezel Arsalan castle. Since the village is older than the castle, it is possible that the village dates back to the 14th century. This castle stands next to the Anthropological Museum and Qalat Church.
Old Hammam
There is an old hammam in this village that the elders of the village believe that Saadi once took a bath there. Unfortunately, this historical monument, like the church, has been destroyed.
Waterfalls in Ghalat
At the foot of the Red Mountain and on the outskirts of Ghalat village, there are three natural waterfalls. One of them is a little difficult to access. Less than 2 km away from the old texture of Ghalat you can find the small waterfall(Shiraz Nature).
The Rivers
Famous rivers such as the Shab-Shotori river and Cheshmeh-Anjiri river have special greenery and freshness, especially in spring and summer. As mentioned before, you can see a variety of wildflowers and medicinal plants there and enjoy the fresh air along the river.
Pachenar
Pachenar is one of the other sights of the village, which includes four sycamore trees next to each other. The locals set a fire nearby on the days of Ashura and Tasua.
Buying Souvenirs
Walnuts, almonds, grapes, figs, pomegranates, apricots, plums and greengage, grape juice, pomegranate paste, handmade basket, waterskin which keeps water cool, and wooden utensils, and so on are the souvenirs and handicrafts of Ghalat village.
Street Food
Make sure you try the traditional ice cream flavored with local milk, onion Kashk(a white salty whey product), walnut kashk, cooked lentils (Adasi), Kaleh-Pacheh, famous Ghalat Ash, and other local delicacies during your trip to the village.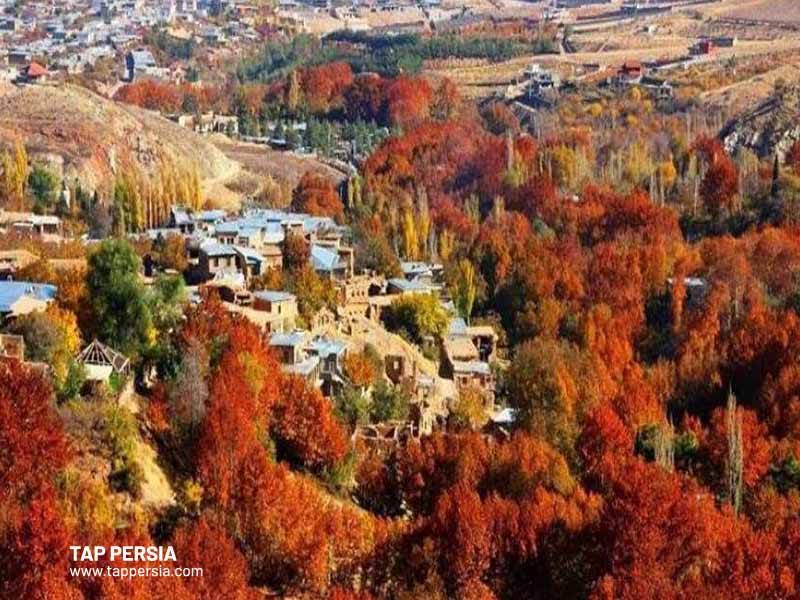 Also, the water mills, Ghalat Cemetery, as well as the engravings and carvings in the cemetery have created a kind of attraction of their own. The Old Bazaar with its paved path, the Old houses, the handicraft booth, and the Single Minaret Mosque, on and on are the other things you can enjoy while your stay in this village.
The Architecture of Ghalat Village
As mentioned before, this village is located in a mountainous area, whose houses are built in a stepped manner and are surrounded by tall trees. Old houses have two floors and are made of stone, clay, mud, plaster, and wood and their roofs are flat. But in new buildings, the houses are on several floors and are made of materials such as stone, cement, iron, and brick. The location of these houses in winding alleys with clear streams and lush gardens makes them unique.
Customs in Ghalat Village
Residents of the village celebrate and rejoice on special days of the year such as Nowruz, Sizdeh Be Dar, Chahar Shanbe Soori, and mourning during religious days such as Tasua and Ashura. The people of Ghalat often wear the clothes of Qashqai nomads in celebrations, especially at weddings.
Folk music of the village is one of the favorite music of the people. Washang is a type of singing performed by village women at weddings. Tombak, violin, dohol, and sorna are common Persian musical instruments of Qalat village.
The Future of Ghalat Village
Due to the potential that exists in this village, it is one of the best options to attract tourists and tourism to itself. People are optimistic with the necessary attention and follow-up, they can provide a suitable platform for sightseeing and introducing it widely. Of course, some old houses in this village have been turned into museums, eco-lodge as well as a restaurant and a coffee shop, which make the trip more enjoyable for travelers.
Travel Season
Spring And Summer
Ghalat has a cool and pleasant spring and summer that's why the best season for sightseeing in this region is spring and summer.
Autumn and Winter
The king of seasons, autumn (as they say in Persian), gives the village totally different but awesome views with color and smell. Its winters are cold but have their own beauty. If you want to travel to Ghalat in winter, be careful on the uphill and stepped paths of the village and wear proper shoes.
How to Get to Ghalat Village
Fars Province, Shiraz, 35 km northwest of Shiraz, Yasuj-Shiraz Road

First, you need to go to Shiraz city then enter Shiraz -Sepidan (Ardakan) road. After traveling about 25 km, you will see the sign of Ghalat village and its underpass. Unfortunately, the asphalt road is not very good, but inside the village, the path is paved and you can go by car to the middle of it. To see the pristine and unique nature, you have to continue on foot.
Final Words
Thank you for joining us on this trip to this amazing village in Shiraz. I hope you have enjoyed it. If so please let us know in the comments. In case you have visited Ghalat village leave us a comment about it and tell us how you liked it? And remember your words are worth the world to us. If you need more information or you would like to book a tour with Tap Persia you can reach us via the contact information below the same page. Our experienced guides would be glad to help you.
Hope to see you soon in Iran!
Last Edited: May 26, 2021
---
Recommended Tours