What about drinking a cup of original Persian tea on the rooftop of Yazd? What about enjoying the mesmerizing alleys and wind catchers? Apart from all the historical sites, Yazd offers to its visitors, you can visit Yazd Art House and spend a couple of hours to enjoy the stillness and beauties of the whole city in a frame.
Yazd, the first city of mud bricks, has a lot of tourist attractions to offer. This city is located in the heart of the desert where you can enjoy the endless landscape and magnificent sand dunes. Traveling to Yazd, you will have the chance to visit architectural masterpieces; you will be amazed by all the originality and purity it offers.
History of Yazd Art House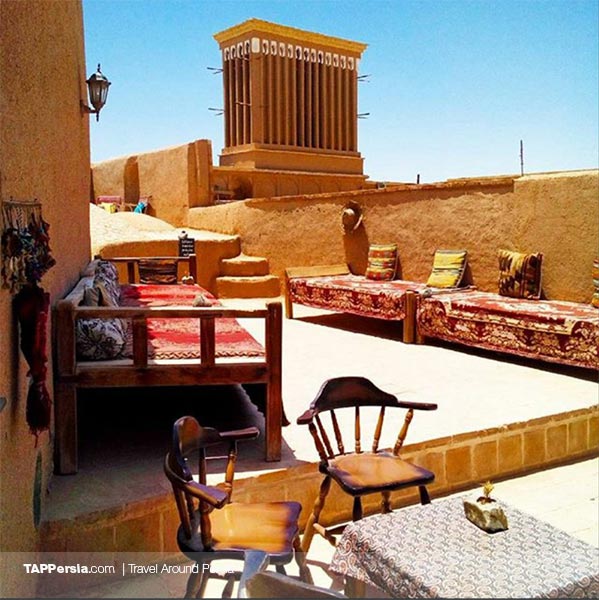 Located in Fahadan County, Yazd Art House is right across Abul Ma'ali Bathhouse. This house has been registered as Mehdi Malekzadeh House in Yazd. Yazd Art House dates back to Qajar Era and four generations of the Malekzadeh Family have lived in this house. In 2014, they have renovated it to start its new functioning as a tourist and social hub.
What Offers Yazd Art House
Entering the house, you can find a handicraft shop and art gallery on the first flower. In the upstairs, the welcoming setting of the cafeteria awaits you. The stunning atmosphere and design, a memorable view, and traditional music bring about a wonderful experience. It creates a memory for its visitors where they can just pause for a time and seize the beauties of each moment. Not to mention the delicious herbal drinks you should try at this café.
It is been a while that they have dedicated a small section of this house to the tourism field. There are beautiful paintings in this section. There is also a pottery workshop and craft store where you can enjoy so many organic and handmade products.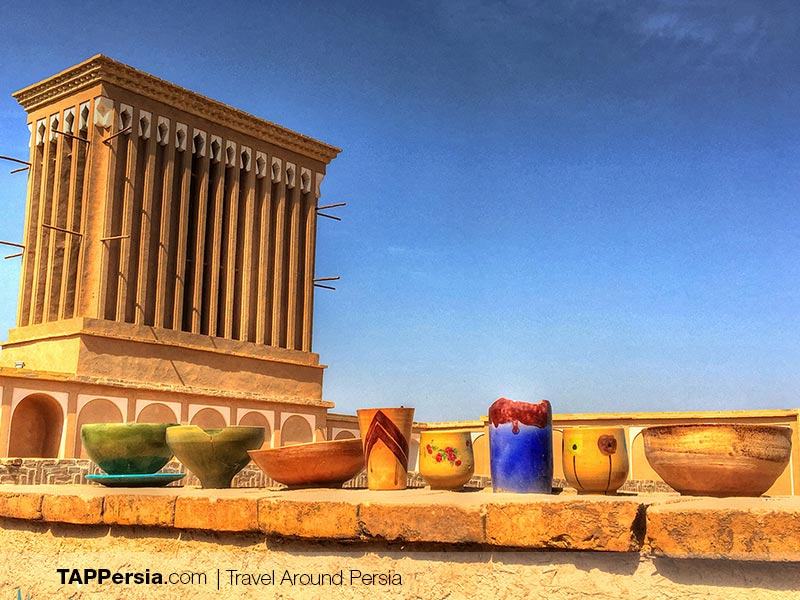 Bam-e Yazd: A View to City from Above
The rooftop is also known as "Bam-e Yazd" meaning "Yazd Rooftop". At Bam-e Yazd you will be mesmerized by the landscape and the magnificent Yazd sky. You can seat on the bench and have a cup of original Persian tea or a delicious local snack at Bam-e Yazd. In 2000, this house has been registered as a national heritage.
Yazd Art House is a must-see attraction in Yazd; at this place, you can rest a bit, meddle in the local lives, and taste how a local might live in Yazd. We do recommend you not miss visiting this unique place while wandering around in the city of beautiful houses and convoluted alleys.
When visiting Yazd, the city of wind catchers, do not miss some universally known sites of it. Amir Chakhmaq Complex, Masjed Jameh Yazd, Zoroastrian Fire Temple, Yazd Water Museum, Towers of Silence, and Dowlat Abad Gardens are only a few of innumerable touristic site you must visit in Yazd. If you are an architectural enthusiast, student, or professor, we suggest you not miss the informative seminars and workshops held in Yazd. Some of them are in English and introduce Yazd great architectural knowledge and cases to the world. In case you have visited Yazd Art House, we would be happy to share your experience with us. If you have any questions in mind, do not hesitate to ask.
---
Recommended Tours