While my time in Iran, especially in Esfahan, I was lucky to make some friends. One of them is a very big fan of the local professional team 'Sepahan Esfahan'. This yellow and black colored football team compare themselves with 'Borussia Dortmund' from Germany. In the season of 1398/99 (2019/20), they were one of the best teams in the 'Persian Gulf Pro League'. Furthermore, one day this friend invited me to watch a game in the stadium of Isfahan, 'Naqshe Jahan Football Stadium', together with him and his friends.

How I Got the Chance to Visit Stadium of Isfahan
At first, I was uncertain. I did not know the situation in the stadium of Isfahan or the behavior between two different fan groups. How shall I behave? Can I go to the stadium as a tourist? What will they say when a white guy from western Europe stands between them, celebrating their team? Alternatively, even do not celebrate?
Ultimately, my friend made clear that it will be great fun. This match would be perfect because a team from Tehran would come and it is the derby time! So I agreed and bought a ticket for just 10 Toman, 100,000 Rial or 0.80 cents. The ticket for the stadium of Isfahan was as expensive as a pack of chewing gum. Moreover, the price-performance ratio is absolutely worth it.
When Football Matches Are Held in Iran
Usually, football games starting somehow in the evening and most of the time at the weekend. That is what I knew from the German league system. However, in Iran, football games take place on the usual days and most of the time in the afternoon, around four o'clock. By the way, Saturday is not the weekend and only Friday is considered a holiday in Iran.
Stadium of Isfahan Atmosphere
We arrived at the stadium of Isfahan around three. People already went crazy in front of the stadium. You could find people selling yellow scarves, flags and some sound-making stuff called 'Vuvuzela'. Especially known from the World Championship in South Africa. Furthermore, a lot of sandwiches, drinks and sunflower seeds to buy.
All these are not sold from usual shops with a recognizable structure behind it, it is more like the design of a bazaar. Sellers are calling people and offering their food and loud fans are celebrating their team. All these ingredients heated the air and let it smell like football. You could have closed your eyes and inhaled deeply, you still feel that it is a football match.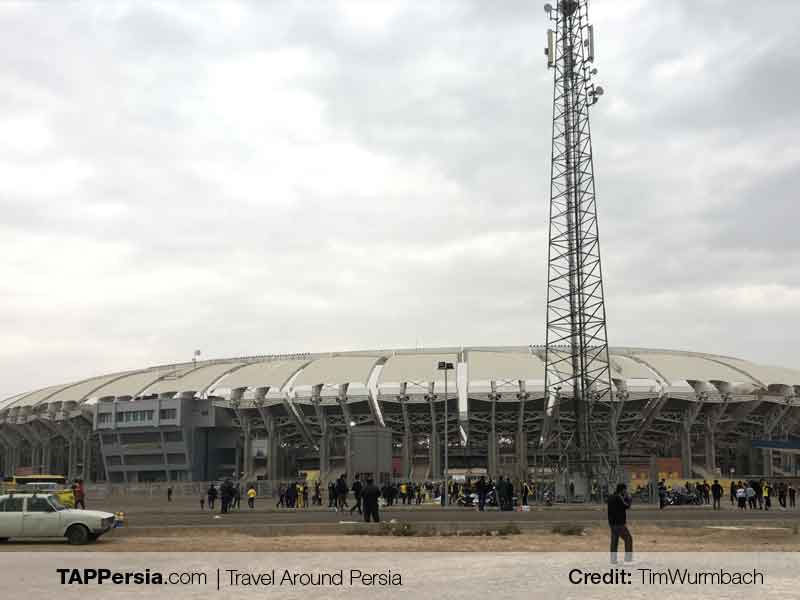 How We Entered the Stadium of Isfahan
After passing this crazy scene, we came to another one. In the entrance security control, there was a big crowd trying to come into the stadium of Isfahan, no lining up, no structure, just running inside until a soldier stops you. If you pass the crowd, you have to pass the security check.
Things that are not allowed to bring in to the stadium are cigarettes, lighter and any kind of dangerous objects. Also, you are in an Islamic country, so forget to drink beer while watching a football game. However, do not be afraid of security control. Everything the soldier asked was 'Is he a foreigner?' and after that 'He is beautiful'. That is somehow normal for Iranian men to give compliments, but for sure not normal for someone who doesn't want you inside the country or in the stadium of Isfahan.
The Excitement in the Iranian Stadium
When you are once inside the crowd, you will just have a great time. I met many interested people and everyone was happy that I am supporting their team, 'Sepahan Esfahan'. I was excited, standing inside that yellow black crowd, a lot of 'Borussia Dortmund' tricots, torches, and flags. The precentor was leading the singing and there was a huge choreography in your back. The smell of the Torches, hearing bass drums and chants inside your stomach, everything was ready to win this match. Have fun, do not stand at the side or search for a quiet place, go inside the crowd and enjoy it.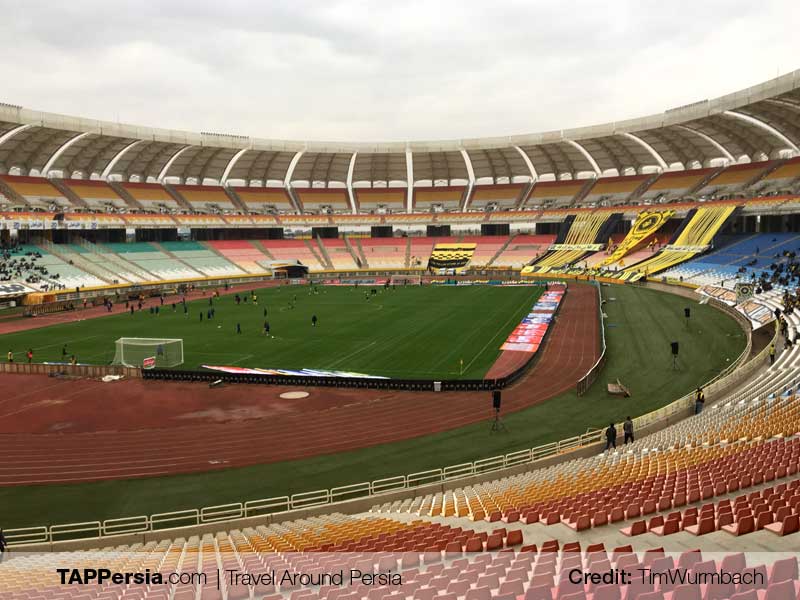 Should I Visit the Stadium of Isfahan?
To summarize, the game went very well. The songs are very hard to learn for the first time, but after my second visit, I was like a real fan singing and celebrating arm in arm with these crazy people of 'Sepahan Esfahan'.
If you want to go to the stadium of Isfahan, do it because of the atmosphere and craziness, not because of the football quality. To compare the quality of the Gulf League, in my eyes, it is equal to the fourth league of German football. For a football fan, like me, it is nice to watch, but for a cultural enthusiast, the stadium of Isfahan will be a unique experience on your travel through Iran.
Note: At the moment, only guys can watch football games in Iranian stadiums.
---
Recommended Tours