With no doubt, Mohammad-Reza Shajarian is the most praised Iranian classical singer around the world. He is a composer and the Ostad (maestro) of Persian traditional music. He has been called "Iran's greatest living maestro of Persian classical music". Keep on reading if you want to know more about this great artist.
Mohammad Reza Shajarian's Early Life
Shajarian was born in Mashhad. He started singing when he was only five years old. His father was his master as Shajarian became his son's master, Homayoun. However, learning music and performing it was against his father's religious beliefs but he supervised his recitation of the Quran. Then, when he was twelve, he started studying the traditional classical repertoire known as the Radif. Shajarian started his singing career in 1959 at Radio Khorasan with his distinct style of singing. Mohammad Reza Shajarian plays santour professionally and learned how to sing under the supervision of some of the greatest vocal teachers.

What Shajarian Did During His Life
His career has included teaching at Tehran University's Department of Fine Arts, working at National Radio and Television, researching Iranian music, and making numerous recordings.
One of his latest works was doing the vocals for the Masters of Persian Music with his son Homayoun Shajarian, Kayhan Kalhor, and Hossein Alizadeh, two of the most famous Iranian musicians.

Charity Concert – Compassion for Bam
In December 2003, the ancient city of Bam in Kerman was hit with a destructive earthquake. It killed tens of thousands of people and ruined the UNESCO World Heritage city. Mohammad Reza Shajarian decided to organize a benefit concert. He also initiated a project to help the people who survived the earthquake. The concert was filmed and you can still buy its DVD by the name of Hamnava ba Bam (Compassion for Bam).
Inventing New Iranian Musical Instruments
Shajarian has led the invention of many new Iranian classical music instruments, many of which were showcased in his 2012 concert tour with the Shahnaz Ensemble. Among these instruments are the Kereshmeh, the Saboo, the Saghar, the Sorahi, and the Tondar.
Shajarian's Awards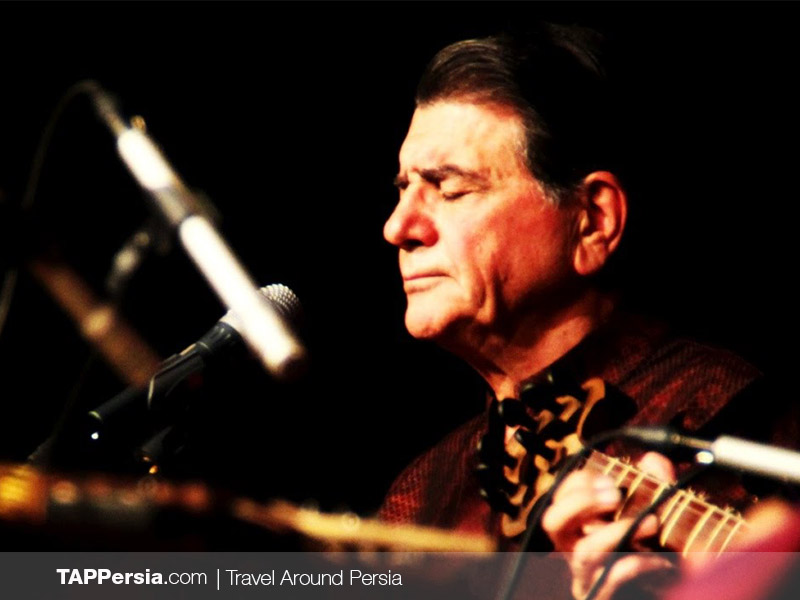 With no doubt, he is a skilled singer in the challenging traditional Dastgah style. Due to praise his works as a musician he has received many awards including Golden Picasso Award of UNESCO, UNESCO Mozart Medal, and the French National Order of the Legion of Honour. It is worth mentioning that he has been nominated for two Grammys in Best Worl Music. He is also one of NPR's 50 great voices.
All the people, even those who don't like traditional Iranian music believe he is one of a kind. Unfortunately, he passed away in October of 2020 after fighting with cancer for 5 years. He is buried in Mashhad, in the tomb of Ferdowsi, the great Iranian poet. . Check out our Soundcloud playlist to hear his best works and for so many more Iranian songs and artists.
Let's Listen to Some of His Greatest Works
It is really hard to choose the best songs of the maestro, but here we have made a top 10 of his most memorable songs among Iranians.
Delshodegan
Baroon
Morghe Sahar
Rabana – A Prayer for Ramadan
Be Kenaram to Beman
Bi Hamegan Be Sar Shavad
Eshghe to
Ze man Negaram
Az Khoon-e Javanan-e Vatan
Ashk-e Mahtab
Jane Jahan
Sarve Chaman